October 28, 2017 Table Rock Lake Fishing Guide Report Branson, MO
Lake Level 916.11
Normal Pool 915
Water Temp 65-70 degrees
Bass fishing on Table Rock has been good this week with the wild weather. Water temp's are steadily falling both the deep and shallow bite are improving. Around Kimberling to Baxter, the lower end of the James I've been seeing a few largemouth and spots showing up shallow in the morning and on these windy days on main lake flat points in and around the brush. Been catching them on a 1/4 ounce white buzzbait and 3/8 ounce mouse colored spinnerbait. About every bite is in the first couple cranks as a reaction bite so I don't really know if it matters what size or color a bait is. These fish are few and far between but some are up there My advice is drop the trolling motor, put it on high and cover as much water as possible before the sun gets too high. Also further along in the day on the main lake gravel run outs and points catching some nice smallmouth on a 1/2 ounce football jig in brown/purple flash and green pumpkin colors.
The deep bite is going well and getting better. Kentuckies are really starting to stack up on the main lake gravel flat points around the dam to Baxter, James River. Depends on where you're at and day to day the fish are in different depths every day it seems but start looking in the 30′ range earlier them moving out to 40′-50′ later. Once you find a school drop down a 4" Chomper's brown/purple or watermelon candy drop shot worm or 1/2 ounce chrome spoon.
Trout fishing on Taneycomo is exceptional. The water has been off pretty much every day I've been doing the best on early on a 1/8 ounce sculpin colored jig hopping off the bottom and the pink trout worm and pink trout magnet on a 1/80th ounce head. Use about a 6-8′ leader of 2lb fluorocarbon  from Fall Creek to Trout Hollow area. Later switch to inflated nightcrawlers in the deeper holes.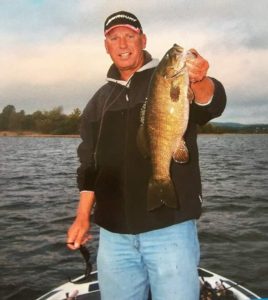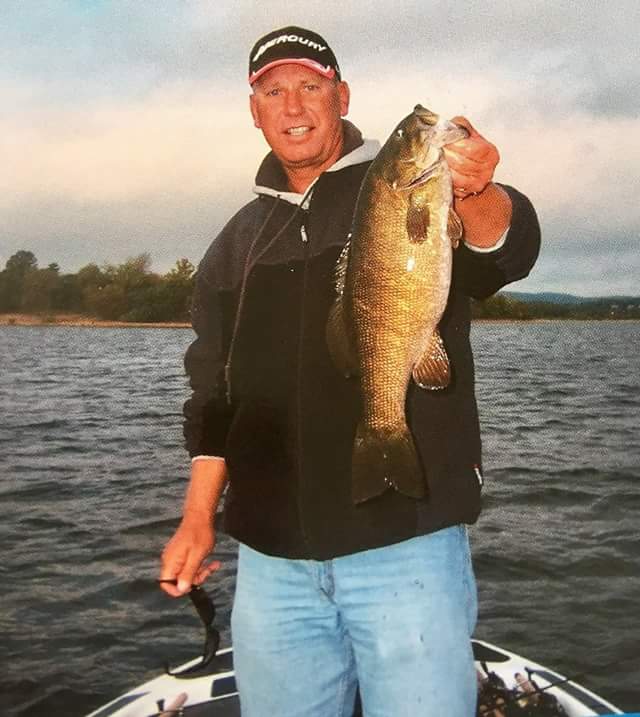 In Memory of one of the best fishermen and best of men,
Gone but never forgotten.